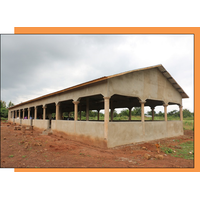 In January 2018, the Board of the RPCVs of Colorado approved $1,000 to support a Peace Corps Partnership project in Benin organized by a current Colorado volunteer. This project created a community business development services center with offices, a blackboard for classes, and a safe place for document storage, in Agon, Benin. PCV Robin C. recently sent us an update on her project.
With the hard work of the building team, the Integrated Business Development Center was constructed in less than 2 months. In rural parts of Benin, the simple, accessible banking many of us have grown accustomed to is not available. To fill this banking gap, many rely on Village Savings and Loans Associations (VSLA). Each VSLA group functions like a mini Credit Union; members come with their savings and can request loans made from the cumulative savings of the group. At the end of one year, the interest accumulated from these loans is divided among the members, so each member receives their savings from the year plus interest.
Today, over 700 members currently use the new Business Center, and the Association's documents now rest permanently in one of the offices alongside their computer, which has finally been moved out of my own house and into its proper place. The VSLA will hold free business classes in the Center starting on September 20th, and other communal organizations have already adopted the Center as their new meeting spot. In fact, as soon as the building was finished, a group of juice producers held a class there even before its grand opening. The people of Agon are extremely thankful to see the building they've been saving for finally realized.
The RPCVCO Board is delighted to share this update with our members. This grant would not have been possible without our members' financial support and purchase of RPCV calendars. The proceeds of all calendar sales benefit currently serving volunteer projects.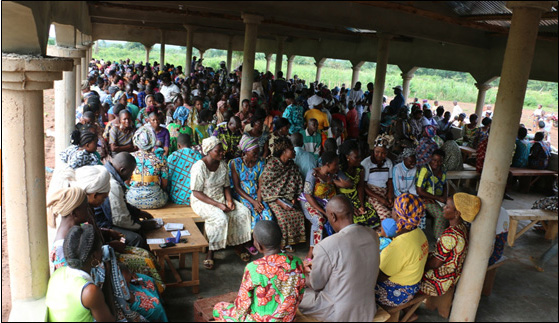 ---